Windscreen replacement specialists gather for the ultimate showdown, where one will be crowned world champion
"My trainers told me they were going to break and rebuild me," says Dave Lyth. "I lost three stone. It takes over your life."
The former UK and European champion, and world number three, turns his gaze back to Ryan Millar, his colleague, working quickly and expertly under the watchful eyes of two clipboard-wielding judges, within a precisely marked-out space he cannot leave and we cannot enter.
"I'm feeling good," Ryan had told me an hour before he went into the 'ring', here at the giant Frankfurt Messe exhibition complex. "Me and Billy Johnston, my trainer, have been practising ever since I won the UK title last October."
Welcome to the world windscreen repair championships or, as the organisers call it, the Best of Belron. Best of Autoglass would have been clearer except that Autoglass is just one of a number of vehicle glass repair companies operating under different names in over 30 countries (for example, Safelite in the US, O'Brien in Australia and Carglass elsewhere in Europe and Russia), all of them owned by UK-based Belron International Ltd.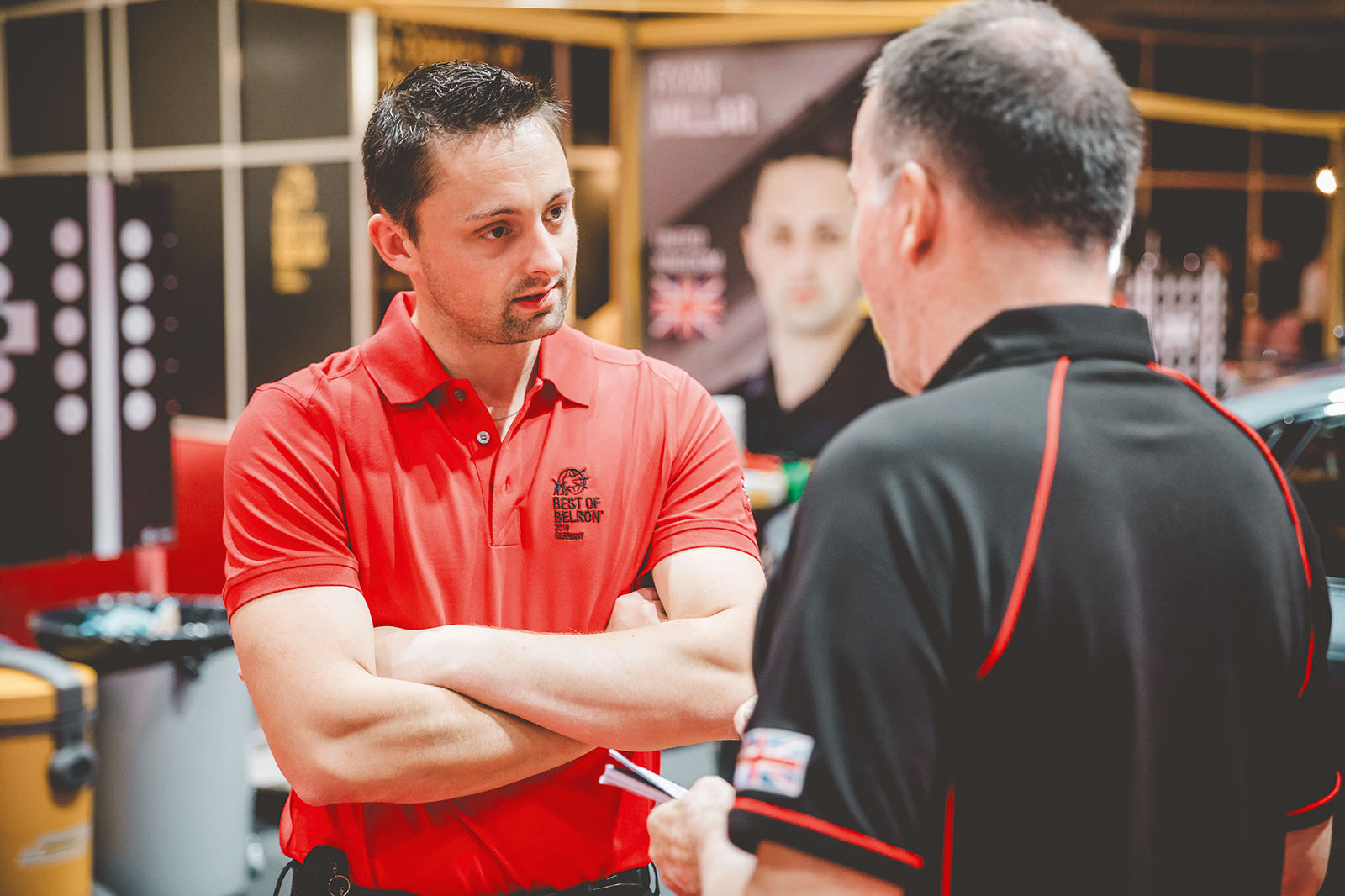 Every two years, the group's technicians who have won their country's national championship converge at a major international location to compete for the Best of Belron world title. This year, the football World Cup might have been taking place in Russia but its windscreen repair equivalent was happening right here in Frankfurt.
In fact, not only windscreens but also rear and side glass, and recalibration of the cameras at the heart of the advanced driver-assistance system (ADAS) disturbed by the removal and replacement of the windscreen. Each technician is scrutinised by a team of two judges keen to see they're following the Belron way, a system contestants ignore at their peril.
"I'm looking for adherence to the process," says head judge Darren Hunter. "For example, there are 40 steps to windscreen replacement alone. Also, I want to see first-class interaction with the judges who play the role of the customer."
The technicians compete in rows of marked-off spaces, each containing a workstation and a gleaming Audi A4. I arrive on the competition's second day when they must remove, replace and recalibrate the car's windscreen in 90min. Points are deducted for running over time as well as deviating from the Belron way. It's high-pressure stuff, with each competitor observed not only by the judges but also by their fellow Belron countrymen and women. Each time a windscreen is removed and replaced, they cheer loudly.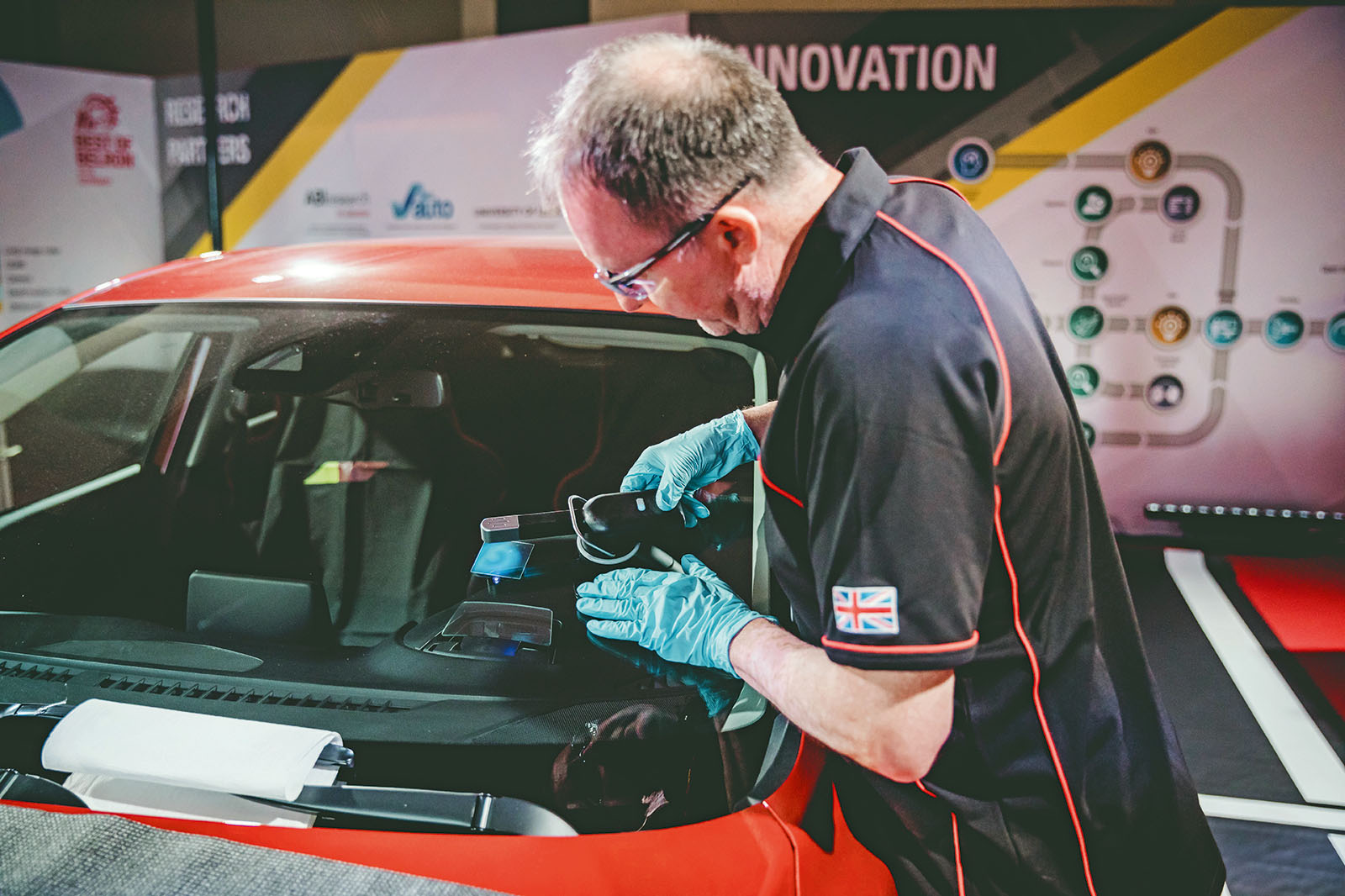 As much as it encourages their competitor, it also panics rivals, hopefully forcing them to fluff the process and drop points. At least, that appears to be the intention...
"They won't bother Ryan," says Johnston. "He's a retained firefighter and as cool as a cucumber. He'll be too busy concentrating."
That much is obvious as, clock ticking, Ryan Millar deftly prepares his A4's new windscreen and wipes clean the suckers that will grip the glass as he lifts it from the worktable.
An experienced tech watching Millar alongside me recalls how in the old days, you could climb into the passenger seat, put your feet on the windscreen and push it out. Not any more. Instead, Ryan assembles a complex web of pulleys wound with Belron's special Ezi-Wire fibreline that cuts through the windscreen bonding like cheesewire.
With the old screen removed, he prepares the channel for the new glass. Taking it to the car and manoeuvring it into place is a delicate operation. Earlier, I'd visited glass supplier Pilkington's stand in the adjacent exhibition hall and saw just how thin a modern windscreen is. It was from a current-model BMW 5 Series. The outer layer of glass was 1.8mm thick but the inner layer was just 1.4mm. On the previous model, both layers would have been 1.8mm and the windscreen itself 15% heavier.
Windscreen and scuttle both in place, Millar is ready to recalibrate the ADAS camera mounted in the A4's rear-view mirror assembly. Because the car's battery is likely to have been drained slightly by the doors being left open, he hooks up a separate power source. If he didn't, there'd be a risk the Audi's battery would run into management mode, closing down the ADAS system.
Millar now checks the A4's tyre pressures and pushes down on each corner of the car to check it's sitting level and at the right height. Some manufacturers insist their car has a full tank of fuel as part of establishing the vehicle's correct height for recalibration. With the car sitting just right, he stands a large target board (each car maker has its own design) in front of the A4 and recalibrates the ADAS camera to factory settings. And then, but for general tidying up, he's done.
"I'm tired but proud to have represented my country and my colleagues," Millar tells me. "I don't do nerves. I just went in and did my best."
Steve Marelli, his colleague who won the world title in 2012, says winning is a big deal. "I've worked in over 10 Belron territories since my victory. I've done TV ads, roadshow demos... It was a huge career boost and now I'm an operations manager."
I've got to catch a plane so I miss the awards ceremony. My phone pings a message as I land at Heathrow: 'Ryan got a runner-up position. A great result!'
Absolutely, but judging by the determined look in his eyes earlier in the day, I bet he's just a little bit disappointed at losing out to Rick Beasley of Safelite America. He has no need to be. If my car has picked up a chipped windscreen in the short stay car park, I know who to call. 
It's getting more sophisticated: 
Taxiarchis Konstantopoulos, managing director of Autoglass, says that although there was an increase this summer in cracked windscreens caused by air-con systems chilling hot glass weakened by a pre-existing stonechip, there has been a slight decline in call-outs in recent years.
"Motorists' average speeds have fallen due to speed cameras," he says. "Also, more people are leaving their cars at home and cycling to work or taking the train."
He says his business is becoming more sophisticated. First, there was the company's launch, in 2015, of its ADAS recalibration service ("insurers took a lot of persuading") and it is currently developing artificial intelligence (AI).
"We'll use AI to interpret customers' photographs of their cars' body damage and chipped screens and generate a quotation. It'll make the customer journey slick and simple."
John Evans
Read more
The cars that changed the world
Potholes: how much they cost the UK and how they are fixed